SUMITOMO RUBBER SOUTH AFRICA PARTNERS WITH 'PART WORN AFRICA' INITIATIVE TO CHAMPION TYRE SAFETY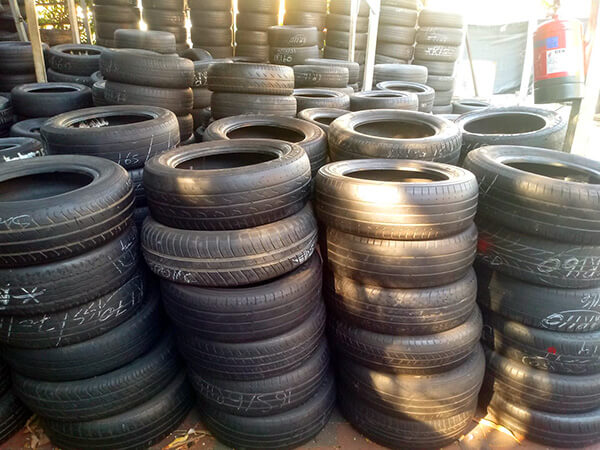 Managed by professional African public policy, regulatory and government relations advisory firm, ETHICORE, Part Worn Africa is dedicated to improving and promoting consumer protection, product safety, responsible trade and environmental management of part-worn and second-hand passenger tyres.
While often seen as a more cost-effective alternative to purchasing brand new tyres, unregulated part-worn and second-hand passenger tyres could have far greater costs by exposing consumers and road users to a major hazard, as well as fuelling an illicit economy that is going unchecked.
SRSA CEO, Riaz Haffejee, said: "The use of second-hand tyres, where the buyer has no knowledge of the tyre's age or repair history – together with the illegal and highly dangerous practice of 're-grooving' tyres to create greater tread depth – are a significant cause for concern within the continent's informal tyre sector.
"As an African corporate citizen, consumer and tyre safety, included in the tyre manufacturing process, is part of SRSA's DNA and culture. We recognise the causes and consequences of unsafe and unregulated part-worn and second-hand tyres - firstly, for consumers and road users, and secondly, for SRSA as a regulatory compliant tyre manufacturer. Our custodianship and support of Part Worn Africa seeks to advance our already well-established manufacturing, product and consumer safety initiatives such as our #SaferthanSafe campaign."
Haffejee says that tackling the scourge of unregulated part-worn and second-hand passenger tyres is an industry imperative. "Africa has the highest rates of road traffic deaths, with 26.6 killed per 100,000 inhabitants. Various studies have shown that defective tyres are one of the leading contributors to fatal collisions, therefore as a responsible tyre manufacturer we cannot neglect our duty of helping to ensure safety on African roads," he said.
Poor tyres can reduce the performance of a vehicle, increase stopping distance, raise the risk of skidding, and, if under-inflated or worn, will also increase fuel consumption and CO2 emissions.
On a part-worn tyre, the tread will not be as deep as on a new tyre, thus providing less effective grip in wet conditions and potentially leading to aquaplaning.
Dunlop tyres have tread wear indicators built into the tyre's tread grooves at 1.6 mm to indicate when they are worn.
Lubin Ozoux, Director of International Business for SRSA, said: "Across our tyre brands, we sell technologically advanced products developed for local conditions and back them up with service that meets consumer's expectations."
SRSA primarily exports to 43 countries in Sub-Saharan Africa and the BSNL (Botswana, Swaziland, Namibia and Lesotho) countries.
Part Worn Africa highlights that unscrupulous operators can and do take advantage of waste tyre disposal processes and the economic pressures and circumstances of consumers, by making available cheap but unsafe, ill-suited and illegal part-worn and second-hand tyres that have not been stringently tested for safety against regulated standards and specifications. In some instances, these tyres are imported and dumped into African markets from other jurisdictions where they are no longer fit or safe for use and are often also ill-suited to Africa's climatic and road conditions. This is further exacerbated by weak import control and trade administration.
Commenting on the formation of Part Worn Africa, ETHICORE CEO Abdul Waheed Patel said: "Part Worn Africa is set to fulfil a critical gap in working with key stakeholders to address the policy, legislative and regulatory deficits governing the proliferation of unsafe, ill-suited and illicit part-worn and second-tyres sold and fitted for use on public roads in Africa."
The announcement of the Part Worn Africa initiative comes a few days after the Global Road Safety Partnership's (GRSP) "Africa Road Safety 2018" gathering in Cape Town from 23 to 24 October 2018.
African countries are under pressure to improve road safety after the Decade of Action for Road Safety (2011-2020) called on countries to implement concrete measures to make their roads safer. A continental plan of action for Africa was developed during an expert meeting in November 2011 in Addis Ababa, Ethiopia, by the Economic Commission for Africa(UNECA) and the United Nations African Union, however the continent has enjoyed varying degrees of success in implementing these initiatives.
With consumer safety as a key priority on the SRSA's corporate agenda, the company has now engaged Ethicore, and through Pan-Worn Africa will take its safety concerns forward.
For more, visit http://www.srigroup.co.za/home and http://www.partworn.org